July is Parvovirus Awareness Month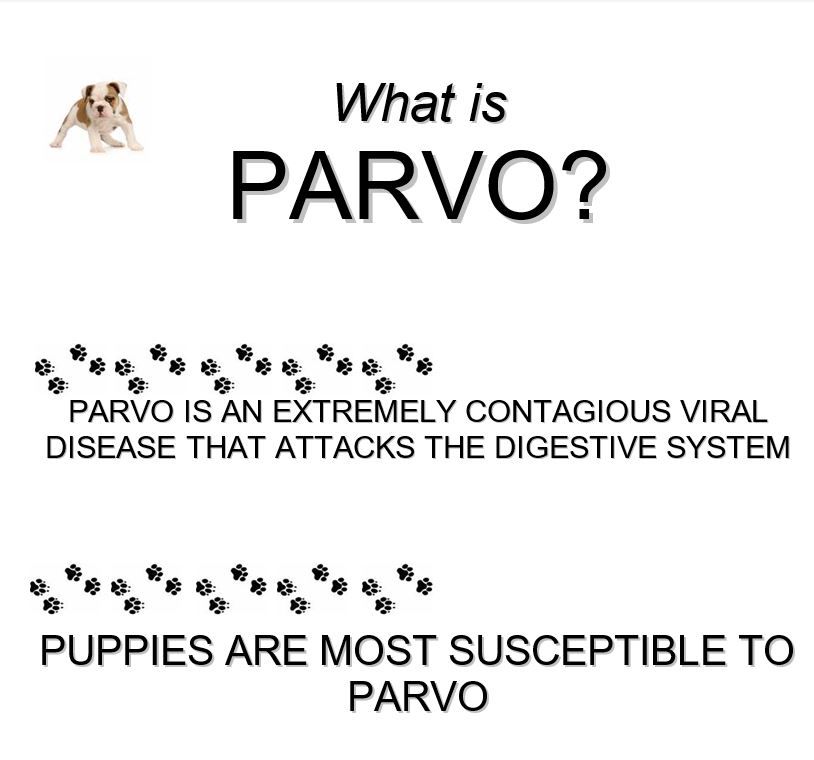 WHAT IS PARVO?
Parvo is a viral disease that affects puppies more frequently than it does adult dogs. The virus attacks the intestinal lining causing diarrhea (sometimes bloody), vomiting, depression, lethargy, loss of appetite, and dehydration.
HOW IS PARVO TRANSMITTED?
Parvo is excreted in the feces or vomit of an infected dog. It can be carried on your shoes or clothing if you come in contact with an infected area. Other animals are also carriers of the virus (ex: rodents, birds, etc.). It may take 7-10 days for a contaminated dog or puppy to show clinical signs of parvo. When shed, this virus can survive in favorable conditions for up to 5 months, making it easy to be spread.
HOW DO I PREVENT PARVO?
Vaccinate, vaccinate, vaccinate!!! Vaccines are the best way to ensure the safety of your pet and should be started at 6 weeks of age and continued every 6 months for the duration of your pet's life.
WHAT IS THE TREATMENT FOR PARVO?
If your animal tests positive for parvo, he/she will be hospitalized and given IV fluids containing vitamins, sugar, and potassium. This will help with the dehydration and malnutrition that your pet has endured. Many times, anti-nausea medications will be given and antibiotics administered intravenously or subcutaneously.
WHAT CAN I USE TO TREAT A CONTAMINATED AREA?
A 1:30 Clorox/Water solution can be used to treat an area suspected of having parvo.
Contact Us
202 Holomua St. Hilo, HI 96720
Call and Schedule an Appointment
808-427-2400
808-935-4532
alohavetcenter@gmail.com
Monday through Friday:
7:30 AM - 7:00 PM
Saturday:
7:30 AM - 12:00 PM
Sunday:
Closed