May is Heatstroke Awareness Month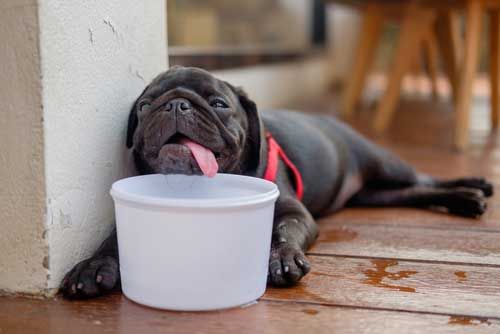 What is heat stroke?
It is a fever that is induced by high temperatures in the environment. Animals are at risk when they are exposed to these hot and humid temperatures because effective evaporated cooling in cats and dogs cannot occur in these conditions.
What situations can heat stroke occur?
Pets being left outdoors in hot and humid weather with no shade or water.

Exercising your pet in hot humid weather, even if water is available.

Leaving your pet in an enclosed car in direct sunlight or on a warm day with the window cracked can be deadly.
What are the signs of heat stroke?
Panting

Sweating

Salivating

Difficulty breathing

Vomiting

Bloody diarrhea

High body temperatures (above 104 Fahrenheit)

Increased heart and respiratory rate
How do you treat heat stroke?
Place your pet in a tub of cool running water or spray with a hose being sure the water contacts the skin and not just runs off of the coat.

Thoroughly wet the belly and inside of the legs

Take a rectal temperature if possible to know when to stop cooling - a safe temperature is 103 degrees.

Seek veterinary attention as soon as possible.
Please contact our office for more questions.
Contact Us
202 Holomua St. Hilo, HI 96720
Call and Schedule an Appointment
808-427-2400
808-935-4532
alohavetcenter@gmail.com
Monday through Friday:
7:30 AM - 7:00 PM
Saturday:
7:30 AM - 12:00 PM
Sunday:
Closed