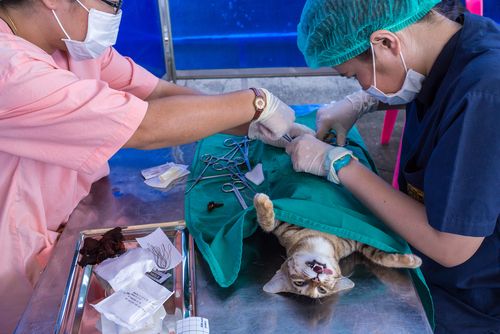 Aloha Veterinary Center understands the bond that people form with their pets. Our veterinarians offer many types of general, laser and orthopedic surgery within our veterinary center. We are committed to providing the highest quality surgical and medical care, whether it be a routine spay or neuter to a more complicated orthopedic surgery. Our veterinary staff will be here for you to walk you through the surgery process and recovery time, and answer any questions you may have. Your pet is an important member of your family, and we treat each patient here as if they were a part of our own.
Contact Us
819 Laukapu St. Hilo, HI 96720
Call and Schedule an Appointment
808-935-7387
808-935-4532
receptionist.avc@gmail.com
Monday through Friday:
7:30 AM - 6:00 PM
Saturday:
Closed
We will have some available Saturdays during the month. Contact our office for available Saturday dates
Sunday:
Closed
If you are needing emergency services, please contact our
Office at (808) 935-7387 during office hours or
Emergency phone at
(808) 430-1339
via text or call outside of business hours.
We cannot guarantee service as we only have one doctor-on-call, but she will get back to you if she is available. We thank you for your continued patronage as we continue to provide compassionate pet care for the Hilo community.
​​​​​​​
Learn More