AVC has five dedicated veterinarians and more than 20 support staff consisting of credentialed veterinary technicians, veterinary assistants, kennel assistants, receptionists, and administrative staff. With this highly skilled and caring staff, we can care for all of your pets' needs from laboratory to surgery as well as radiology and basic grooming. In addition to our own "in house" doctors, our veterinarians also have available to them an internet-based network of other practicing veterinarians across the country.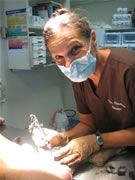 Tina
Tina graduated from Pierce College as a certified Animal Health Technician. She has worked in exotic, emergency, and small animal practices before joining Aloha Veterinary Center at its inception in 1993. Tina, with her high degree of technical knowledge, is the Head Veterinary Technician at Aloha Vet. In order to maintain her certification in Oregon, Tina continues her education via online courses as well as seminars. Her special interests are small animal nursing and Radiology.
Contact Us
202 Holomua St. Hilo, HI 96720
Call and Schedule an Appointment
808-935-7387
808-935-4532
alohavetcenter@gmail.com
Monday through Friday:
7:30 AM - 7:00 PM
Saturday:
7:30 AM - 12:00 PM
Sunday:
Closed
Effective immediately, Monday thru Friday, the doctors will not be available for any after-hours emergencies at the clinic until further notice. The doctors will be available for consultation/advice only up until 9pm. On Saturdays, 12noon till 8pm, and on Sundays, from 8am to 8pm, the doctors will be available for after-hours emergencies at the clinic. If the doctors are not available to answer your call, please leave a message and the doctor will return the call.
Learn More